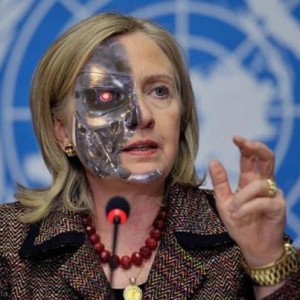 I just saw this photo of H.Clinton on the FB wall of Alex Jones…mine opinion, that's our future!
Science is the real shit that is happening behind the screens.
Act-roids, Life-Nauts, Drones… living skin around tons of steel that is going to tell us how to live our lives and how to be a perfect slave!
I'm trying to tell people about this but it's a tough job…it's always the same story and the same comments; `You saw too much movies girl!` or `Where is the evidence?`
Aaaarrrgh, right in your face!
I can get so angry when people walk around like blind sheep's, depreciate me and keep whining about their mortgage…about their jobs and their so-called diseases.
Most of the people don't want to hear about the fact that they are ill because of the CT´s, the florid in the water, the GM food they are eating at Mc Donalds and the annual vaccinations.
The high tech future?…they really don't want to see it.
They want to hear about the violence and the disasters…they want to ´talk´ about the banks that is stealing our money.
NOOOO, they talk about it at home and none of them is taking action…none of them has the guts to speak up.
They say YES to their boss and keep their heads down!
Please people listen to us even if you don't believe it…jet.
They are killing your identity whit the RFID and the NFC chip.
We need to stand up against those corrupt companies, we need to fight against those blood sucking vampires…we need to bring the truth out in the open!
You want freedom?…than wake the fuck up!
See what they are doing and hear what they are saying!
Health care is not there for you to stay healthy, it's mind controlling death care!
Bill Gates and DOW chemical are not here to help people, they are here to depopulate humanity.
WAKE UP!…it won't be long before the government will say `CHECK MATE!`
WAKE UP before it's to late…get out of that dream state before you find your name on a FEMA list!
FIGHT!…we can win…WE the people are the RESISTANCE!