YES, it is that time of the month again in where "Paranormal Underground" magazine, is providing the most interesting information and the latest news concerning the unexplained.
https://www.paranormalunderground.net/home.html
The haunted McRaven house, a UFO encounter involving a mini golf course owner and the local police, and the mythical Grim Reaper. The book of mirrors and the correlation between doppelgangers, twins, and clones; are just some examples of this month's issue.
Also in this issue, my personal experience involving a "Grimm, which changed my life."
http://www.magcloud.com/browse/issue/1423729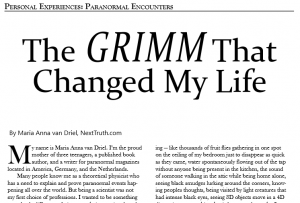 [Top]