(click on the image of the book you want to want to know more about or purchase and go to Amazon.com or …
click on one of the titles of the articles below in order to see that particular issue of the magazine)
To read my interview

which was published in the magazine of Paranormal Underground (May 2016) and conducted by New York Times (#8) & USA Today
bestselling author Michelle Pillow, click on the image below.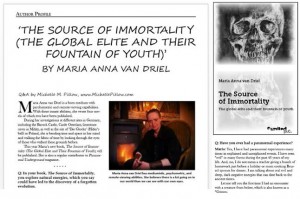 Paranormal Underground Radio broadcasted last night a very interesting program in-which not only the haunted and creepy looking painting of 'The Anguished Man' is being discussed, also one of my theories concerning 'The Shadow People' can be heard at 1 hour and 36 minutes into the program.

http://mixlr.com/paranormal-underground-radio/showreel/tii-ricks-director-of-the-film-anguished-based-on-the-haunted-painting-the-anguished-man/
"Are UFO abductees experiencing reality or are those people a victim of a DEW (directed-energy weapon) what creates a short-circuit in the brain by means of an overload of electromagnetic and/or acoustic impulses?
Where many magazines stayed behind in courage showing the reader another side of the unknown, Paranormal Underground took the leap by publishing my articles.
The issue of October 2015; "UFO abductions, a real or a secret military operation"
Read and re-think, sometimes the truth is scarier than the lie.
Paranormal Underground containing not only articles which will let you shiver through the night but also let you re-think some of what you have learned as a fact.
My article about 'Project Blue Beam' is one of them … read and re-think, sometimes the truth is scarier than the lie.
Did we really intercept a signal from another solar-system or is there an Earthly explanation for the signal?
The Nazi Temple of Doom … what was it that Heinrich Himmler really tried to create in castle Wewelsburg during WWII?
Did he really used German soldiers or/and war prisoners as guinea Pigs in his experiments concerning time- and space compression?
Has H.Himmler succeeded in his experiments AND … did those his guinea Pigs survived?!
"You are not allowed to understand this forbidden knowledge!"
"The frightening idea of Gravity resonance…"
Did I really saw what I saw; could it be that I witness a medieval exorcism?
Was I being led through time by a dark or … an enlightened energy or was it just my imagination playing tricks with me?
What was the message behind this and who was that senior monk asking me "Haben Sie es gesehen?" (Did you saw it?)"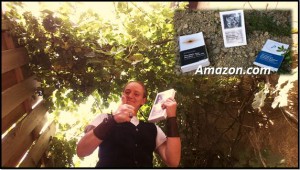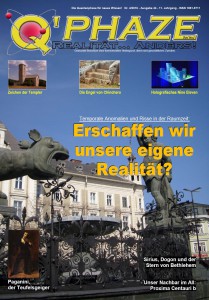 Stonehenge is an ancient building that leaves many aspects up for debate, including its construction and purpose.
To some people it is just a ruin, a couple of upright stones that were dug into the ground between 3.000 BC and 2.000 BC while many physicists and historians find strange information about e.g. sound waves, ancient engineering and how religious rituals were interwoven in the daily lives of the local people.
Stonehenge, was it a building where sacred sacrifice rituals were preformed or did something else happened at this place?
Paranormal Underground Radio broadcasting an interview with Nick Groff who is speaking of his near death experience and Katrina Weidman suddenly goes off air in a spooky manner while speaking about how paranormal activities do increase during their lock-downs.
http://mixlr.com/paranormal-underground-radio/showreel/

At 1 hour and 37 minutes into the program, you can hear me telling the story of Castle von Frankenstein were my husband and I stayed overnight in the woods of which people heard strange noises and say the spirit of Dippel von Frankenstein is still roaming looking for death body-parts in ghostly graves from the past.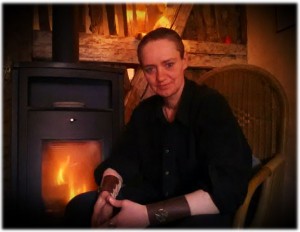 Tonight (10 Nov. 2016)Paranormal Underground Radio again conducted a very interesting interview with Peggy Maguire and Nate Gearhiser, Ohio Ghost Hunters who are speaking about investigation tools and how to use them, cleansing, religion en much more.

I like to thank Chuckie G. and Cheryl Knight for their friendly sayings at 23 minutes into the program

At 1 hour and 26 minutes (50 sec) into the program, you can hear Chuckie G. introducing me as well as Cheryl's thoughts about the different methods investigating groups are using in order to find some answers in the unknown and unseen.

At 1 hour and 37 minutes (15) you can hear part one of an investigation I conducted which contains a CLASSICAL POLTERGEIST ACTIVITY in Germany … at one point into the investigation you can hear me asking the energy a question … a answer came in a form of a energy peak what was picked up by the EMF meter.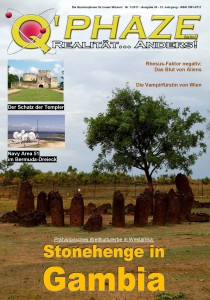 The Germany version of 'The Real Technology Behind The WOW Signal! …is it a Secret NASA Space Program?
An article which was also published by the magazine of Paranormal Underground in March 2016.
Last night (13-01-2017) Paranormal Underground Radio started 2017 with a remarkably radio broadcast in-which you can hear my NEW RADIO AD at 27 min and 25 sec.

The technical problems they (Cheryl Knight, Chuck Gotski and Karen Frazier) encountered in the beginning of the show did made me think of what people say of The Slenderman who, so is being said, does have the power to interfere with technical devices like e.g. computers.

This is also what Don Allison have experienced while he was writing his book 'I met a ghost at Gettysburg' in the haunted house he is living in … listening to his story it almost sounds like that the entity was writing this book together with Don.

At 1 hour and 50 minutes you can hear me speaking about THE SHADOW PEOPLE as well as MJ12; who created who?!

The Next Truth (intro) https://youtu.be/TdoDJ4j8jew
Paranormal Underground Radio; SST, the beginning of an Alien invasion?
http://mixlr.com/paranormal-underground-radio/showreel/

Last night (26-01-2017) Paranormal Underground Radio broadcasted a very interesting interview with Gavin Kelly & Paula Purcell from Phantasmic Ghost Hunters who are talking about their paranormal investigations and experiences.

At 1 hour, 54 minutes and 30 seconds, another correspondent segment of me can be heard concerning how a space defense system (SST) can be turned into a system what can choose its own objects of threat.
I wonder if this system has something to do with Trump kicking the world, making enemies like Mexico for instance.

ps: the repeating of the sentence "the future of the US and global security" is not an error.
N. Poussin, did he held the key to a doorway from a dimensional world.(Paranormal Underground radio)

At 51 minutes and 30 seconds, you can hear me speak about a crazy but eerie idea of how N.Poussin could have held the key to a dimensional world by thinking of how to created 'wormholes'.

For more information about this broadcast of Paranormal Underground Radio from 15 April 2017; http://nexttruth.com/?p=19700