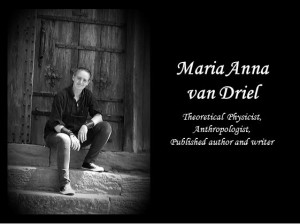 We are living an illusion we are maintaining ourselves by not paying any attention to a possible truth.
Good day to you all, my name is Maria Anna van Driel.
I am a published author, theoretical physicist  with e.g. a MA in ancient Alchemy and a high interest in Holographic Duality.
To me combining science with e.g. mythology, theology, local folklore is one big adventure to gain some knowledge and plausible answers to questions many people have.
And by throwing in a touch of philosophical thoughts I explore ancient symbolism to understand the behavior of past and present civilizations.
As a freelance (paranormal) investigative journalist (member of the DJV-German Association of Journalists), I am covering non-fictional stories concerning scientific facts in Quantum mechanics & Astrophysics … technologies which are silently being tested on the common people creating crazy effects in both mind & behavior control (Intended or not) and artificial created holographic evolution's due bizarre scientific experiments.
For some time now I try to give people the opportunity to have another look at some MSM stories that merely tell an incomplete story or show a snapshot without telling what went on beforehand.
911 for example … some magazines I mailed have an opinion about me and even rejected my writings without even reading it. (I wonder if this is based on 'future regret')
My inbox was (by magazines which are publishing stories concerning e.g. UFOs, the paranormal, the existence of extraterrestrial life, future technology and more) bombarded with comments like;
"Your thinking is to far removed from the rational, evidence-world …"
"Conspiratorial thinking …"
"Pseudo-scientific gibberish …"
"The kind of utter nonsense …"
"It is too much speculation …"
"Stick to your own kind …"
"Your German is too bad …"
"Too many claims without further arguments…"
Even my question of how is it possible being convinced of an alien life form from another solar-system is more fact than a man-made object using quantum trapping to move itself in controlled (Euclidean) atmosphere and having the ability to cloak and project 3D holographic images around this solid object by means of optical's which can work as one as well as separated, was answered and labeled as Pseudo-science.
But … do you remember that mysterious element 115 of the early 80th's which was a result of a collision between matter and anti-matter which can be found today without any doubt in acceptance on the periodic table?
Or what about the memory foil of 1947 what these days is called 'clear-view power'?
If I would go back in time and meet you in the 1930th's and tell you that some day people will walk around with a device called 'a mobile phone' containing a display having the ability to communicate with your bio-rhythm … would you believe me?
Over the years I have spoken with many people who have no everyday functions and did hinted in the directions of technologies that was present at e.g. 911 but not yet known by most of the people in that period of time.
Today we are (almost) used to it and we do not lift our eyebrows if a 3D holographic projected conference is held, something that appeared to be fiction 15 years ago.
An artificially controlled and almost stable Euclidean space within our atmosphere being pseudo-science … well when I started the beginning of the book 'Our mind in a controlled quantum Euclidean space?' I was also convinced that this was an impossible fact by means of a inter alia, the chaos theory until that particular conversation a year ago in where someone made the comment; "Oh ye, little of faith."
After this conversation I understood that what is being shown to the world as in e.g. politics, only being a theatrical distraction for the global population.
What I am saying is that the so-called science that is presented in the school system(s) (or books), is only a tiny fraction of what is actually invented in the last nearly 100 years. (Meaning this sins e.g. the understanding of how to use and alter magnetic field due infra- and ultrasound for instance)
Look, you do not have to take my word it or to accept it all without questioning, I just give you the possibility to see some MSM stories from a different angle.
Keep an open mind and look beyond the point of focus because there IS a criteria for the plausibility in truth!