For one day back in time
September 5, 2012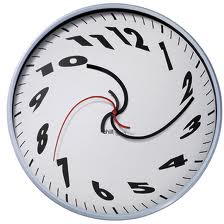 Yesterday I drove from the supermarket back home.
Dark clouds hanging in the sky telling me it was going to rain.
I rolled down the window and stuck my hand out in the open air.
I felt the wind and the rain on my hand and forearm…
Within a few seconds it ran into a small stream towards my elbow and disappeared as a silent witness of  the chaos theory, on the gray asphalt.
The feeling of the cold rain brought me back to my childhood, the moments that I rode the bike back from school to my parents' house.
I remembered how I enjoyed cycling in the rain because I knew that if I came home, I could get into clean and warm clothing.
I loved it to feel rain on my face and feeling cold and numb when I came home and taking a hot shower right away.
I thought back to my youth and the feeling of freedom from no worry's.
Freedom to even dare to dream about a colorful future …back then I could be anything and everything.
At that time I had no idea that there was a NWO and that they had plans for mankind.
How happy I was in that ignorance.
The memories flashed through my mind … the moments that I was laying on my back in the backyard, fiddling my bare feet in the green grass.
Squinting my eyes to block the bright sunlight and looking at the white streaks that airplanes left behind in the azure blue sky.
How lucky I was not to know that those white stripes where poisonous substances that was coming down.
That THAT were the chemical-trails that killed our nature and people slowly…that those stripes are worse than the exhaust manifold cars on the highway.
And now after more than 20 years, they are still doing it.
My mother explained me at the time that these stripes appeared through the cold air up there … and I believed it!
I believed everything they told me back then.
When I was a toddler, I believed that Sesame Street really existed and I believed that leprechauns lived under my bed.
I believed in the mystery of magic, unicorns and the talking cows I saw in the Disney movies… I believed in the history books and that the bank kept my money actually safe.
I believed there was a God, and later that democracy was the best way of ruling.
And then I woke up….
Now I know the truth and I have to admit, it was the biggest disappointment I've ever known in my life.
How in the hell could they lied to us while in the Bible is written that lying is a sin?
What the fuck is going on, they are killing people in wars but the bible is saying that we may not kill.
I started to read the news articles, documents…I started to REALLY listen to the babbling politics.
WOW…what a fucked up mess man.
I have learned that faith is based on an astrological knowledge of the Egyptians … that aliens and hybrids are a failed project created at Area 51 and the Vatican had ripped out complete parts of the Bible and is keeping it a secret for `ordinary 'man.
The Vatican even say that it doesn't exist…they say that for instance the story about `the Nephlins and the Giants` don't exist!
Even the history in my old schoolbooks is wrong.
Yes it is true that Napoleon lost the war but they haven't written that Rockefellers and Rothschild's knew the outcome of the war in advance and with that knowledge that they have made their first fortune in England.
Yes it is true that England knew a huge recession knew but they do not tell you that those same maggots who took financial advantage of the Napoleonic war, have this recession have plotted to make their fortunes even larger.
Yes it is true that Hitler was a screaming politician and gave orders to the most evil practices but they have forgotten to say that the blood sucking Rockefellers (and friends) financed most of the war.
Even the CIA recruited Nazi man and brought them into America to work whit the CIA.
I learned that they lie to us for years!
Now I can't go back even if I wanted to.
It's impossible for me to forget the RFID, QR code and NFC chip and to go on with mine (dream state) live.
Even a simple movie is not what it was … now I see the Illuminati symbols everywhere.
Mercedes, Opel, Skoda but also Shell, BP and Total…. you see the symbols everywhere!
If I walk into a music shop because I want to buy a CD, I see the pyramids and when I'm walk into an elevator I see the symbols of NASA.
Sometimes I think, 'If only I could back in time, just for one day`.
Back to a time when I had no knowledge of the Illuminati and had the guts to dream about a beautiful future.
A day back in time to feel the safe and cozy feeling that I used to have when thunderclouds rolled into my hometown.
Sitting in the corner of the couch with a sandwich watching Sesame Street and not worrying about the shit that was coming.
The misery the already had planned for us. .
Probably some of the creepy scientists working with the LHC will say like Obama, 'Yes you can! `
When I sit on the couch and I look at a movie I think immediately that my brains will get numb to the hatred and violence in the world so I will see it as normal and will no longer respond to it.
Now, in December, I sit at the Christmas table looking at GM mashed potatoes, synthetic meat and GM-strawberries.
I never knew that waking up can so dangerous for you.
But once you have climbed out of that dream state…that pit from hell….is not difficult to see the true terror.
If you actually waking up and you learn to listen to their lies, it's suddenly very easy to say NO to a bank account or loan.
Suddenly you understand how they are trying to influence you with advertising and keeping you busy with i-phones, tablet's etc.
If you are awake it is not important anymore what the neighbors are doing … you're even think that they are stupid when they bought a big expensive car.
Because they have given the corrupt NWO system again the chance to grow bigger.
After I woke up from that damn dream state I had the feeling of incomprehension.
I didn't understand the people around me and I was angry … very angry!
Angry because they did not see what I saw.
Angry because they didn't want to wake up!
I cursed, shouted and begged that they would wake up but nothing helped.
Everyone kept on living in that dream state because it's easier to dream than to face reality.
Dreaming means no problems and a bright future that always and is almost within reach but never really there.
The NWO system is not changing or … and you can't wipe out the crazy fools who are running it.
It is the mentality of the people that have to changed!
We need to see the world with other eyes …not like a blind sheep but AWAKE!
We need to see their lies and stop living their thoughts.
We need to stop to live to their agenda.
Keep on fighting…we are going to win!
The reason why…because they made ONE BIG MISTAKE, they forgot that the human spirit and free minders are so much stronger than material possessions!
Don't stop exposing them…fight with me, we have the right to be FREE!!
We have to fight against the NWO and the pollution of our drinking water with chemicals … we have no need for that!
I call on everyone to stand up and see what they are doing to us … stand up and fight for your right for a free existence!
Say NO to the RFID … say NO to the Drones … say NO to chemical trails … say NO to a live that will be controlled by the NWO!
DON'T GIVE UP….FIGHT AND STAY FREE!!
Let them eat their own hell!… we can and have the right to disagree!
Fight them at their own grounds … Know that their strength is their weakness!!!
Now go out there and spread the word.
Tell the world about the corrupt system they want us to live in.
Waiting out time and see what is going to happen is NOT the way…sticking your head in the mud and looking the other way….is NOT the way!
Crawling back in that godforsaken dream state is NOT the way!
It is a live of slavery and not of freedom…the RFID chip is not a solution, it's a high tech prison!
We MUST stand up and spread the word…we MUST tell others what our so called leaders are doing to us!
We have to tell the world what those maggots of DOW Chemical are doing!
Bill Gates, Bush, Obama, Romney, Bilderbeg, the NSA, CIA, the FED, the Pentagon and all the other butter heads who call themselves `Great man` and have no more brains that a jelly fish, they led us believe that they are there for us.
They are lying!
THEY are the terrorist…THEY are the ones who are threaten us by telling us that we can't put up a picture on Face Book if there is government property on it.
They tell you that you will get arrested for that!
THEY want you to be afraid…THEY want you to be that blind sheep and that dumped down parrot!
Like I said before…WE the people…WE have to stand together and fight the corrupt system the Elite call THE NWO!
We have to wake up and see their lies and fight for our right to be a human being!
Let them know that you're not afraid of them!
FIGHT goddamn…FIGHT!
By Maria Anna van Driel