Google's Mysterious Pluto Switch
On a winter's day, a mysterious hardware device sporting a foreign language label is accidentally delivered to a small distribution centre in a mid-western town with a population of roughly 600. After pondering over the function of the device, two men determine that it belongs to one of the most powerful tech companies in the world.
Sounds like the beginning of a low-budget sci-fi movie, right? For two co-workers in Iowa, it was reality.
Two employees at a distribution centre in the small farming town of Shelby, Iowa found themselves befuddled when a networking switch was accidentally unloaded at their office this past winter.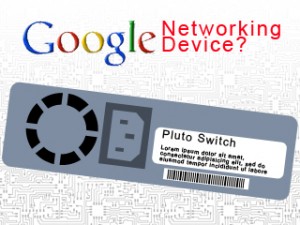 Networking switches are used to link multiple hardware devices together and share files across a single network, such as multiple computers and printers in an office. Unlike devices such as routers which link devices to a pre-existing network, a network switch creates a file-sharing network and ethernet cables are plugged into the switch's ports, physically linking the devices to one another and to the Internet.
The two employees, however, could only determine that what turned up in their office was a networking switch – they couldn't get it to work, or determine what the unusually shallow ports on the front of the device were for. With the labels appearing to be in Finnish, the duo took to message boards to determine the identity of the cryptic piece of hardware.
When the two eventually deduced through the device's media access control (MAC) address that it belonged to Google, and after attempting with no avail to contact the company, representatives from Google urged the two to return the device and offered a reward, but remained hush-hush about the specifics of the switch.
Since its return, the two men who uncovered the switch received their reward – T-shirts.
Was Google's demanding of a hasty return the sign of something big to hide? Probably not.
Google designs the hardware they use in their data centres across the world, and prefers to keep those designs a secret from the public. They're well-known for being more than a little tight-lipped. The infamous Google X labs is the location where the company develops all of its (almost) top-secret pilot projects. They have been known to make a rare exception, though. Earlier this year, Google X labs publically unveiled several of their projects, including the Google Glasses. In 2009, the company revealed one of its custom-made servers, uniquely equipped with a backup 12-volt battery.
It's not completely unheard of for software companies to develop their own hardware, either. Microsoft and Amazon have avoided the pitfalls of being tied to particular companies for hardware by creating their own custom equipment.
So while the hasty snatching of the mysterious Pluto Switch may conjure up images of men in suits racing against time to return the network switch to its rightful owners, it's probably far more underwhelming than that. The Pluto Switch is said to operate at ten gigabits per second as opposed to the standard one per second, and is a technology that Google wouldn't want another company getting their hands on, especially a competitor such as Dell or Cisco.
After this, Google may want to consider themselves lucky that the two men who accidentally discovered the Pluto Switch were not part of their competition.