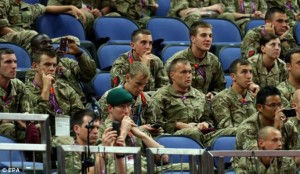 London 2012 chairman Lord Coe reveals students and teachers are also being called in at the last minute

Large areas of empty seats seen in stadia for the second day running

Fans could have their tickets upgraded to fill more expensive areas reserved for Olympic VIPs, Lord Coe reveals

Some tickets also being recycled and re-sold as spectators leave – as happens at the Wimbledon tennis championships


Organisers Locog have begun an investigation into the ticketing fiasco
Troops, students and teachers are being drafted in to help end the embarrassing spectacle of empty seats at Olympic venues.

London 2012 chairman Lord Coe today revealed that servicemen were being brought in at the last minute to fill the gaps in stadia.

Invitations have also been given to students and teachers from London schools, he added.

The desperate measure was announced as photographs showed Games venues with large swathes of empty seats for the second day in a row.