The Physical and Biological Sciences Which Could Explain the Origin and Nature of Life in the Universe
An interview with SETI's Senior Director of Education and STEM Programs, Dr. Simon Steel
Ever wondered what life on other planets would look like from a scientific perspective?   Well, if you lived on a planet with twice the gravity of Earth, you would come crashing down twice as hard if you fell. So, some creatures would perhaps be stronger, stockier and with legs close to the ground.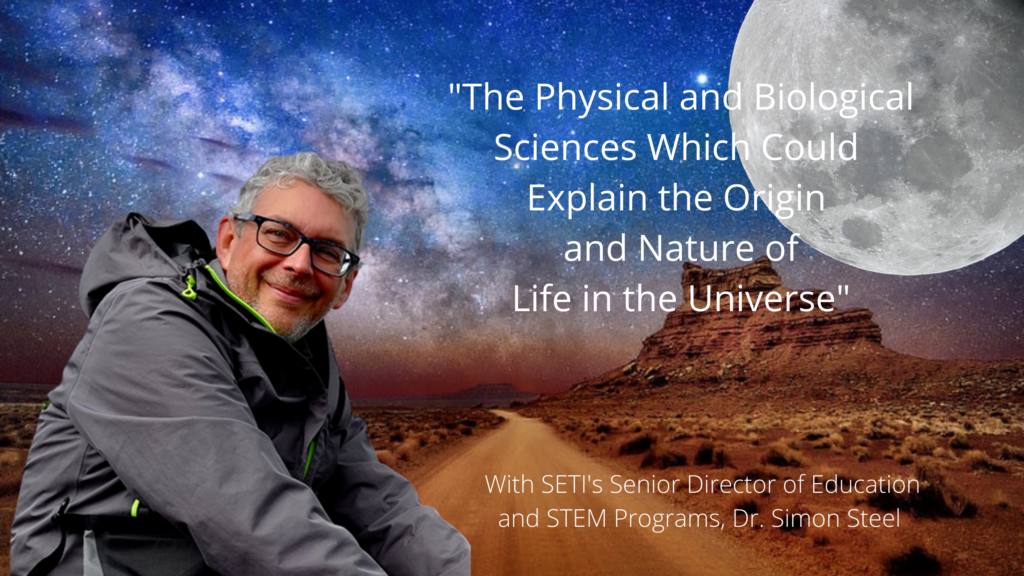 And what if there really were Martians? Well, Mars is a planet with low gravity so, think of creatures with thin, spindly legs.  And if life evolved on a dense soupy planet then you could perhaps see creatures as big as whales or elephants flying not through air but, through a liquid atmosphere. 
The humans species is not at the top of the evolutionary ladder.   We are not the end point or the goal of evolution.  Odd as it might sound to some but we where accidents.  We eat and breath through our mouths and that means we can choke on food. That's a terrible design! Maybe aliens evolved differently and don't need to breathe through a mouth but, like worms do, through their skin. Anything is possible as long as it  makes sense for the environment.
But how do we contact 'them' in this huge, vast universe and…what if we really do find complex life out there? Would it change our place in the universe because it is telling us that we are not alone?
I am your host Maria Anna van Driel… and you're listening to "The Next Truth; Where Science and Myth Meet" and this week we are going to make an adventurous journey through the universe with SETI's Senior Director of Education and STEM Programs, Dr. Simon Steel.   So, fasten your seatbelts, put on your space helmets, get rid of those outdated alien stereotypes and let's explore our cosmic freezer like galactic detectives.