Can We Predict the (travel) Path of COVID-19?
"The NBC News has put it bluntly Covid models predicted devastation in Africa, but the reality is starkly different", says J. A. Jones Distinguished Professor of Mechanical Engineering at Duke University, Adrian Bejan.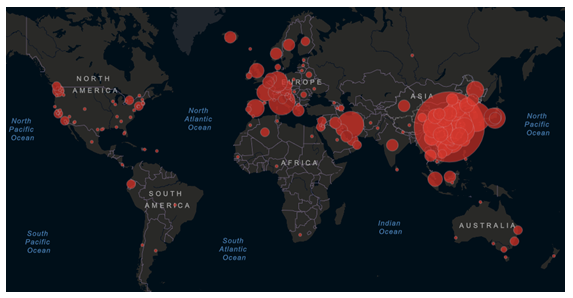 As of 24 March 2020, more than 63.090.470 cases of COVID-19 have been reported in more than 190 countries and territories, resulting in 1.465.415 deaths and 40.366.250 recoveries. An avalanche of theories have passed the revue ever since the World Health Organization recognized this health attacking virus as a global pandemic.
What is its origin? Where is it traveling and when does it all stop?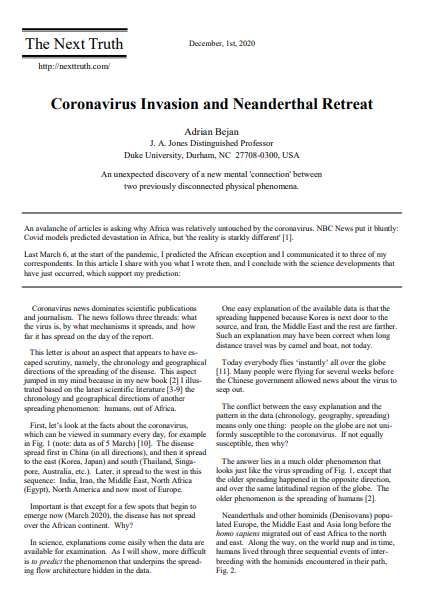 Even though many tent to think that COVID-19 is a young virus, the most recent common ancestor (MRCA) of all corona-viruses is, according to Wikipedia, estimated to have existed as far as 8000 BCE, although some models place the common ancestor as far back as 55 million years or more, implying long term coevolution with bat and avian species. The most recent common ancestor of the alpha-corona virus line has been placed at about 2400 BCE, of the beta-corona virus line at 3300 BCE, of the gamma-corona virus line at 2800 BCE, and of the delta-corona virus line at about 3000 BCE.
Can we merge this historic human story with an unexpected discovery of a new mental 'connection' between two previously disconnected physical phenomena?  Can we predict the travel path of COVID-19? J. A. Jones Distinguished Professor of Mechanical Engineering at Duke University,  Adrian Bejan, says we can.
In the attached PDF Prof. A. Bejan, who has made contributions to modern thermodynamics and developed what he calls the constructal law, supports the prediction he made in March 2020 concerning the travel-path of COVID-19 and why Africa was relatively untouched by the corona virus.