The very first podcast of "The Next Truth; Where Science and Myth Meet"
"Paranormal Underground; The Backbone of The Next Truth"
With the founders and owners of PUG, Cheryl Knight-Wilson & Chad Wilson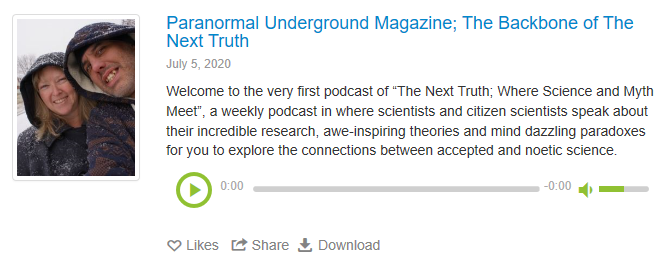 Welcome to the very first podcast of "The Next Truth; Where Science and Myth Meet", a weekly podcast in where scientists and citizen scientists speak about their incredible research with you to explore these awe-inspiring theories, mind dazzling paradoxes, the connections between accepted and noetic science and…everything in between.
I'm your host Maria Anna van Driel and this week I have the privilege to speak with Cheryl Knight-Wilson and Chad Wilson who are the founders and owners of Paranormal Underground magazine.
Not only are Cheryl and Chad's magazine and podcasts your connection to the paranormal world as they are covering a wide variety of topics that are beyond the scope of normal scientific understanding… they are also the backbone of The Next Truth! Without their support, courage and energy… The Next Truth would never been born in the first place.
PUG is available on paranormalunderground.net (PDF-on-demand), magcloud.com (print-on-demand), and issuu.com (read online for free).