Only $2.20 for a Digital Version of the July Issue of The Next Truth!!!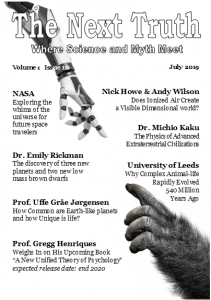 The July issue of The Next Truth is available online!
http://www.magcloud.com/browse/magazine/1512517 
In the July issue of The Next Truth; theoretical physicist Dr. Michio Kaku is leading us on a most breathtaking journey into a future universe exploring the mind-blowing physics of type I, II, and III civilizations, we listen to professor Gregg Henriques's as he unveils his eye-opening theory containing the key solution for a scientific language barrier and we hitchhike on exoplanets with associate professor and astrophysicist Uffe Gråe Jørgense while he unlocks the secret of how oceans on Earth were born.
Also in this issue; Dr. Emily Rickman takes us on a unique hunt for three new planets and two new low mass brown dwarfs, dimensional researchers Nick and Andy are holding a magnifying glass over the question if an ionized air can create a visible dimensional world, the university of Leeds explores a bust of an early evolution, NASA is conquering the whims of the universe for future space travelers and we take a jaw-dropping leap into the exotic and hypothetical missing stuff of our cosmic freezer.