The Next Truth; May 2019 Issue – Out Now!
The May issue of The Next Truth is available online!
http://www.magcloud.com/browse/magazine/1512517
I hope you enjoy this month's issue.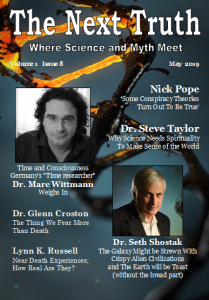 In the May issue of The Next Truth we welcome back Germany's 'Time-Researcher' Dr. Marc Wittmann who is taking us into this foggy sub-world of reality, Dr. Steve Taylor discusses, with an open-minded approach, why some scientists, and psychologists in particular, are often hostile towards the possible existence of psychic phenomena and we try to wrap our mind around Dr. Glenn Croston's explanation of what it is we fear more than death itself.
Also in this issue; Nick Pope speaks of the facts and the fiction of conspiracy theories, SETI's senior astronomer Dr. Shostak asks the question if alien civilizations have disappeared due a climate change on their home planet, a brief introduction of Major C. David Lewis who is a program manager in the Defense Sciences Office (DARPA), high-energy lasers drilling holes in plasma bulbs at the German research institute DESY and Lynn Kathleen Russell explores the similarities, the differences and the reality of both Near Death Experiences and Out of Body Experiences.