April 2019 Issue – Out Now!
The April issue of The Next Truth is available online!
http://www.magcloud.com/browse/magazine/1512517  
I hope you enjoy this month's issue.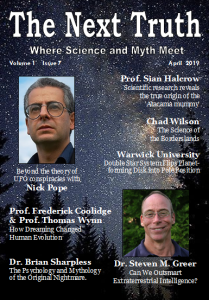 In the April issue of The Next Truth we spotlight planetary, extraterrestrial and human evolution in where Professor Steven C. Hayes provides us the insight in the evolution of consciousness of both humans and animals, journalist and TV personality Nick Pope takes us on a tour through several conspiracy theories and explains why they are an important part of contemporary belief, Prof. L. Coolidge & Prof. T. Wynn are proposing a stunning theory in how our dreams changed human evolution and an in-depth interview with Dr. Brian Sharpless in where we discuss his books, what it is that ravages our dreams during sleep paralysis and this horrifying disorder Cataplexy.
Also in this issue; Dr. Steven M. Greer on extraterrestrial intelligence being hostel or not, the publisher of PUG magazine Chad Wilson explores the scientific methods of the borderlands, Professor Sian Halcrow from the University of Otago, New Zealand let us peer in the DNA analyzes of "Atacama mummy', Warwick University discloses new research of the first confirmed example of a double star system and some Theoretical and Helio-physicists tickle our brain with Out-Of-The-Box thoughts concerning FBR's.