Halloween at fortress Königstein … Sachsen, Germany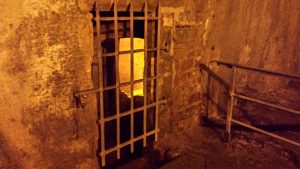 Fortresses like Königstein do let the imagination speak whereby romantic images of medieval scenes come to mind.
But there is a darker site to this fortress….
One that speaks of war prisoners, executions, wounded soldiers and guards being thrown out of their bed by an invisible force …. even a ghostly apparition from Baron von Klettenberg has being seen carrying his head underneath his arm.
Up until 1922, this fortress was the most … feared … state prison … of Sachsen, Germany!
A Halloween special in the "Casemates" at the fortress Königstein is organized on 28 October, 2017.
For more information, you can visit the website; https://www.festung-koenigstein.de/en/