CERN'S ATLAS EXPERIMENT: MORE THAN JUST SCIENCE!
Brilliant Scientists are Open Minded … so why not YOU?
This past July, I visited the European Organization for Nuclear Research (also known as CERN) in Switzerland. The physicists at CERN are asking questions such as what is the universe made of and how did it start? And to find answers, they are using some of the world's most powerful particle accelerators, including the Large Hadron Collider (LHC). My visit to CERN focused on research and experiments going on to find other dimensions and create artificial time tunnels…
Please continue reading in 'Special Report 2017' to find out more about some of the advanced ideas CERN scientists have.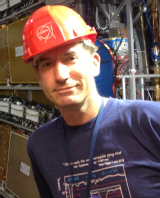 Special Report, September 2017
Paranormal Underground Magazine
Interview with Physics Professor and Ph.D. Bill Murray
Special Report 2017   (RTF)
Special-Report-2017 (PDF)
Professor Murray definitely has a broad view when it comes down to new theories & ideas in already existing science.
It was truly educational while speaking with him and to explore some mind-bending ideas 🙂
Thanks Cheryl for publishing this interview of which I hope will give people a different look on 'dusty' science and the scientists themselves.
Also many thanks on the praising comments;
– Interesting!
– …he is also so open minded to the unknown!
– Your interview with Dr. Murray was awesome.
– Such a refreshing perspective!
– Finally a real scientist's perspective in the magazine.
– He is totally open-minded.
You can leave your comment(s) below … c

omments expressing any disrespect are not posted and/or removed.