The Next Truth; More than just science!
The Next Truth is a company that takes investigations to a whole new level.

Using the latest technical instruments to collect and record evidence as well as incorporating good old fashion ghost hunting techniques whereby the team of The Next Truth forth to some of the most frighting locations …. for the search of what is actually hiding in an malevolent and invisible spectrum of light and sound.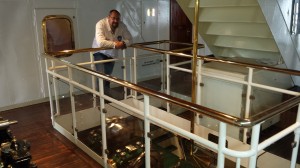 Before I stepped into an ancient knowledge describing a world containing benevolent and malicious spirits, I studied both security-risk-and catastrophe management and sport management what requires psychological and social skills.
In daytime I work as a Paramedic but when dusk is falling, the paranormal journalist in me is rising. (member of the DVPJ)
I have 17 years experience in the field of paranormal research which were pretty rough in the beginning …
As I set my first steps into this, for the common human eye, invisible world, I had no idea what I had to do or getting into.
Having Maria Anna along my side during our paranormal investigations, I learned things about this other world which I never thought would be possible in their existence.
I truly learned a lot from her.
Thomas during one of our paranormal investigations in Austria.