An article of Karen Frazier of how to detach yourself from dark/negative energies. (Paranormal Underground Magazine)
The March issue of Paranormal Underground Magazine is online available for those who love the paranormal, have questions about it or are just curious about what other investigators experiencing.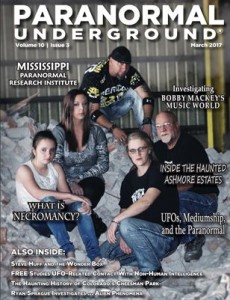 For this issue I recommend those people who are dealing with toxic situations or people, to read the article of Karen Frazier "Dealing with Toxicity" which you can find on page 40.
For those who like to hear Karen speak about how to detach themselves from dark/negative energy, I recommend the broadcast of Paranormal Underground Radio of 27 January 2017.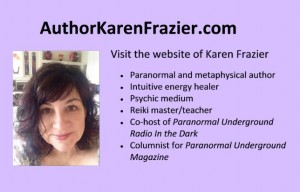 In this issue of Paranormal Underground magazine, we spotlight Mississippi Paranormal Research Institute and alien phenomena investigator Ryan Sprague, as well as paranormal authors Flora Dare and Michelle Pillow. In our Case Files of the Unknown, we feature haunted Ashmore Estates, a new report on extraterrestrial and NHI (non-human intelligence) contact, and haunted Cheesman Park in Colorado.
We also take a look at UFOs, mediumship, and the paranormal; how one skeptic learned to love a psychic; how to eliminate toxic energy from your life; and how one shaman was led to his calling by the spirits.
Also in this issue, don't miss our coverage about the practices surrounding necromancy and some of the most haunted places our paranormal insiders have visited or investigated. Plus, check out articles on investigations of Waverly Hills Sanatorium and Bobby Mackey's Music World!