'Millions march in France against terror'….I told you that you would fight side by side with your oppressors!
Posted on

These so-called "world leaders" do have a completely different agenda as we have … the global population.
One option to understand this all is to take a look behind the scenes,
the book 'The NWO, Their thoughts … your life' is a fine example to clear up some of these illusions of this false "hope".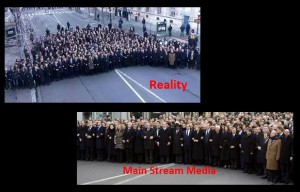 Millions march in France against terror in historic unity rally
Largest demonstration in French history draws world leaders, including Netanyahu, Abbas, though Elysee Palace had preferred Israeli PM not attend; Jews killed in supermarket siege to be buried in Israel; victims honored at synagogue ceremony
Some 1.5 million people, including over 50 world leaders, thronged central Paris Sunday afternoon in a massive and historic show of support against terrorism and to honor 17 victims of a series of attacks that rocked France last week. Prime Minister Benjamin Netanyahu, attending the rally, announced that the four Jewish victims of an attack on a kosher market Friday would be buried in Israel. The Times of Israel liveblogged developments throughout Sunday.
Read more
In the front row for press freedom
Op de eerste rij voor persvrijheid, maar niet in eigen land
Arm in arm marcheerden staatshoofden en regeringsleiders door Parijs. Op die manier wilden ze hun geloof uitdrukken in 'de kracht van de democratie' en 'het vrije woord'. Ontroerend. Dat sommige politici de persvrijheid in eigen land aan banden leggen, moesten we maar even vergeten. Wie waren deze controversiële figuren die meeliepen?
Door de onthullingen van Edward Snowden in The Guardian kreeg de Britse premier David Cameron het benauwd. Dus reageerde hij zich af op de krant, die te maken kreeg met brute intimidatie, zoals een inval op de redactie.
In 2013 gaf Cameron persoonlijk opdracht om een computer van The Guardian te vernietigen waarop geheime informatie stond over de spionage door Britse en Amerikaanse inlichtingendiensten.