I found a star map carved in the outer walls of the church.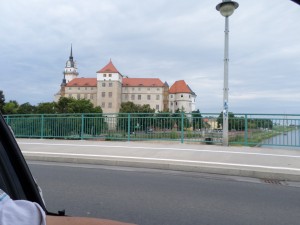 Yesterday I went to an old castle in Torgau, Sachsen (Germany)
Unfortunately I couldn't go in all the rooms because they were still busy to explore the vaults which are that lying beneath the castle.
Many of these vaults are flooded because of the tunnel that runs under the river the Elbe.
Than the guy who was standing in front of the entrance made a remark what made my day, he told a story of his mother having a book what describes the history of the castle and the many rooms there are in and underneath the castle.
He told me that in that book is a paragraph what what describes a 'Zimmer mit Spiegeln' (room with mirrors).
Was he talking about the 'chamber of reflection'?
(Wikipedia; In the Ancient and Accepted Scottish Rite, the French Rite, and related jurisdictions, including Co-Masonry, the Chamber of Reflection is a small darkened room adjoining the Lodge room. It is a sombre place of meditation and reflection for candidates for initiation into Freemasonry, and is sometimes used in higher degrees. It contains, either literally or in representation, a skull, a sickle or scythe, an hourglass, bread and water, sulphur, salt and a cockerel (symbolising mercury), a lantern or candle, and the acronym V.I.T.R.I.O.L. Other texts or aphorisms may be written on the wall. Vitriol (sulphuric acid) is interpreted as "visita interiora terrae, rectificandoque, invenies occultum lapidem", or "visit the interior of the earth, and rectifying it, you will find the hidden stone.   Read more)
I have been to this castle before as many of you already know and found then the symbol of the Knight Templar's.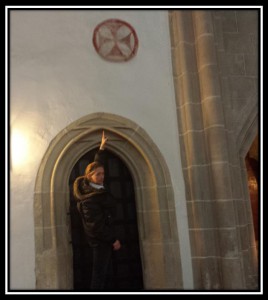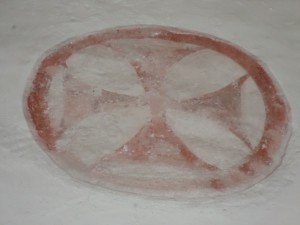 This time I went a little bit deeper into the symbolism of the place and found out that this castle had definitely the influence of the Knight Templar's because if you follow the 'Bear paws' (what is a symbol of wealth according to the Sioux Indians), you end up at a bank.
(the bridge in front of the castle was once used as a toll bridge)
I stared to follow the bear paws in reverse and ended up at the same church I found the Knight Tamplar symbol in the first place.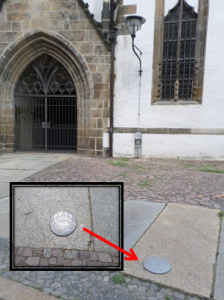 Many symbols like skulls and hourglasses were present in and around the church.
Than the I found something what was probably overlooked by many or ignored….I found a star map carved in the outer walls of the church!
It is not important when this was carved into the wall…the person who did this KNEW something more.
The question is WHAT did he or she knew?!
(this story of following one of the many paths of the Knight Templar's will be continued)