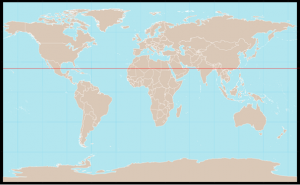 The Tropic of Cancer, also referred to as the northern tropic, is the most northerly circle of latitude on the Earth at which the Sun may appear directly overhead at its culmination.

The Tropic of Cancer position is not fixed, but varies in a complicated manner over time. It drifts south almost half a second (0.47″) of latitude per year (it was at exactly 23° 27′ in year 1917).
If you want to understand the next text you have to know time, motion and energy.
You must have the will to learn to see the knowledge what was lived by many, practiced by few and understood by some.
If you like to know what the future will be you have to look at the past!
The tropic of Cancer; http://youtu.be/pDiH1gDfZVs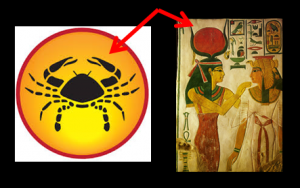 Did you ever wondered why there was a lobster in the mythological story of Atlantis? (the city with an energy source what was swamped by a tidal wave and then disappeared into the sea)
Well like all ancient stories they were told many times by many different people meaning that facts became symbols and symbols a myth.
The story of Atlantis (Ancient Greek for 'island of Atlas') is the name of a fictional island mentioned by Plato and tells us that it is not about ONE city or island but about many nations who were living on 'the Tropic of Cancer' what is a length of latitude on this globe.
But many of you will not believe that this line on the globe has the power to create wars and incomprehensible murders for no reason in the first place.
Many will have difficulties to believe that the city Plato was talking about consisted of different peoples who have built their homes and city's on this length of latitude.
Nations who had the knowledge about sound-waves, natural frequencies, electricity, chemical reactions, radiation and this all based on nature.
If I told you that these nations (or Atlantis as Plato like to call it) weren't overwhelmed by a flood of water, but by a wave of sound (resonance) you probably will have some trouble to believe me.
And unbelief will definitely be there when I tell you that the resonance in these regions creates a violent behavior by means of natural sound-waves, irritations and short circuits in the brain are the result of this event.
A wave of sound (frequencies) created by the earth's rotation and the radiation of the sun which creates a form of electricity by means of the elements in the earth surface like crystals, basalt, granite and so on.
A sound-wave what can even create hypnotic hallucinations and works as an addictive chemical or synthetic drug.
Think about it before you scream BULLSHIT.
Throughout history nations and empires in this regions came and disappeared after wars with an unclear beginning.
Now what if this resonance what is created by mother nature herself, has the capability to create illusion by means of sending a certain kind of Hertz in the air after the sun led its Tachyon light run over the minerals in the ground?
What if the wave what supposed to have flooded Atlantis wasn't water from the sea but a tsunami of frequencies
And what if the ancient nations knew this through the telling of their ancient elders?
That would mean that they also knew how to reduce it because nobody will sit in one place and wait until their brains is starting to cook…right?
('Our mind in a controlled quantum Euclidean space?' will explain more about Hertz and human behavior today)
It is a natural reaction to survive so people started to think about this annual event and started to built buildings all over this length of latitude that could reduce this resonance…buildings that could create a wall of sound.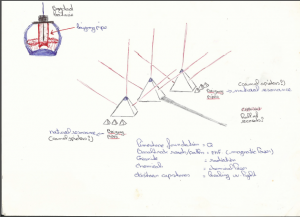 They started to build triangle buildings with which they could create magnetic fields, laser, light and sound.
They build machines that could create a safe haven…they build a dome of sound.
Inside the dome the natural resonance was so low that it had no effect on the people, outside the dome people were killing each other for nor clear reason.
(are you starting to see the real plan behind the NWO idea / agenda?)
How to create a dome of sound and light…by using enormous prisms which can break the light of (chemical or magnetic) laser.
Add some beacons on the edge like you can see at Stone Hence and the dome is a fact.
Inside the dome the violent and aggressively making Hertz can not reach the brain meaning that there are no unnatural irritations meaning there are no feeling of war.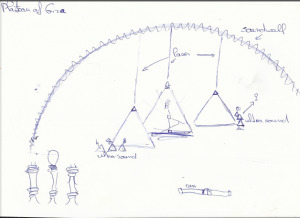 WOW…did I just told you that today the technology has the capability to reduce your emotions at any time as well as to skyrocketing it?
Yes I did!
This is all possible with GWEN, H.A.A.R.P, Woodpecker, LRAD, and many more of those creepy devises which were refined during and after WWII.
You also know these groups as 'Paperclip' and 'MJ12' which had projects like 'the Philadelphia experiment', project 'Stare-gate' …(more CIA projects can be found in the book 'The NWO, their thoughts…your life' on page 573 till 601)
This is the real lunatic idea behind the NWO!
Back in history they stole the knowledge of the ancient nations…tore it into pieces…kept the good part and left the world with the misery of an unprotected resonance what can create feelings of irritations what can have the outcome of …WAR!
With this knowledge they want to create a safe haven for themselves… and a dome (like project Eden but with a wall of sound) with chipped people who are controllable and in the meanwhile they steal you thermal-heat and bio-energy to power up the artificial source what keeps the dome in position with the electric borders.
They are going to create a Tron Society with artificial emotions which means NO emotions of yourself.
Your life will be controlled by a bunch of control-freaks and lunatics who think they are right…who think freewill will only lead to destruction of our species.
SHOW THEM DIFFERENT and fight against this lunatic idea of locking up emotions and the creation of a so-called 'zombie' nation.
(The only reason why there is constantly war on the longitude of 'the Tropic of Cancer' is because the resonance is kept alive artificially by the global and political leaders!)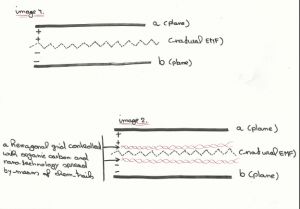 (look at the date when I post this…)