Dying with dignity: Photographer's heart-rending crusade to capture on film the last moments of Taiwan's doomed shelter dogs 
The photographer gingerly places a small, mixed-breed puppy on a platform in his makeshift studio at an animal shelter in northern Taiwan.
The dog looks around two months old, with alert, trusting eyes and a shiny coat. It has no owner and will not get one.
Once its photo shoot is over, it will be taken away by vets to be put down.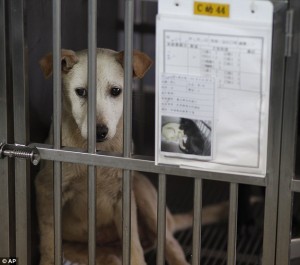 read more: http://www.dailymail.co.uk/news/article-2170107/Dying-dignity-Photographers-heart-rending-crusade-capture-film-moments-Taiwans-doomed-shelter-dogs.html