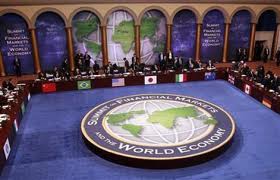 Europe's escalating debt problem and its impact on the global economy are expected to dominate the two-day summit of the world's political and economic leaders that begins in Mexico today.
The G-20 meeting of the world's rich and developing economies at the Pacific resort of Los Cabos, one day after Greek elections that saw pro-bailout parties win enough seats to form a joint government, offers an opportunity for the international community to find ways to keep the euro crisis from spreading and slowing economic growth across the globe.
Europe's impact and the "fiscal cliff" of scheduled U.S. income-tax increases and federal-spending cuts already have some economists worried about a new recession early next year. President Barack Obama, who has called Europe's financial crisis a "cloud" hanging over the U.S. economy, is expected to push German Chancellor Angela Merkel and other European leaders to do more to solve the sovereign-debt problem.
read more: http://www.azcentral.com/news/articles/20120613euro-crisis-g-20-summit.html