'The Grimm That Changed My Life' is an article I recently wrote but is not being published yet.
A phrase from that article;
"At first I thought it was my imagination and tried to ignore it … this turned out to be impossible to do so.
It was not my imagination … it was real.
The air around me started to get more denser until the moment my attention was drawn to a specific point into the darkness of the backyard where an almost malevolent dark smoke was sliding over the ground like a silk sheet.
I could not see shadows or a silhouette inside the eerie dark smoke but somehow I knew that something massive was formed by it and was walking carefully up and down through the garden like if it was waiting for the right moment to strike.
I could feel its energy … I could smell its strong animal odor … I could almost touch its tight black fur with my mind.
I could not hear it walking or its breathing but I could feel its strong energy building up.
It was neither human nor animal.
Than it suddenly froze and turned its massive head towards me and looked me right in my eyes and through my soul … it had a lock-on me!
It felt as if time slowed down extremely while my brain activity was speeding up drastically.
I slightly leaned backwards, took an extreme slow but deep breath and felt how 'its' energy was connected with mine as if we had a telepathic connection.
Right at that moment the connection was made."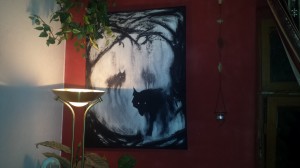 [Top]