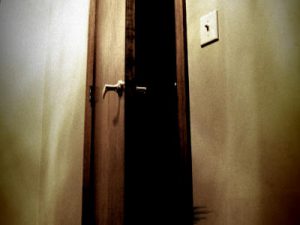 By Maria Anna van Driel, www.nextttruth.com
Whether you believe in ghosts or not, it is tough not to get freaked out when you are alone and hear something bump in the night or even hear a voice…maybe calling your name. My latest experience from the realms of the beyond will freak you out so it is best to read it with someone. Preferably a friend and not a stranger you have decided to creep up with behind your computer screen.
My house was built in 1850. It is a single family home, wood frame setting on a concrete block foundation. I have been living here for about 8 years. Of all the weird things that I have seen and heard in this house this and the one of the singing girl, is one event what me got highly exited or better said…a little bit spooked. It was a normal Thursdays evening. My husband, who works as an ambulance driver, was on his nightshift and the children where visiting their friends… yes, mommy-time!
It had to be around 10 O'clock in the evening when I finished working on my latest article. Still, even I was the only person in the house, every now and then I had that creepy feeling that something was about to happen. Because it was my time off I did not really want to pay that much attention to this feeling. But as many of you know, the unseen forces roaming the realms of the unknown do not look at whether someone is working nor has a moment of free time. However, I closed most of the internet taps on my laptop which I was using for writing my article and went on the hunt for… popcorn!
While I was searching for a few episodes of Ghost Adventures on YouTube, the corn kernels where making that familiar popping sound and the smell of fresh micro-waved popcorn was slowly filling the kitchen and drifting into the living room. PING! Yes, my sweet addiction is ready… I quickly sprinkled some extra sugar on this delicacy before it cooled and then … feet up and getting spooked during an episode of Ghost Adventures. Oh, how unhealthy are these moments of spare time 🙂
Like I said, it was a normal Thursday evening. Nothing out of the ordinary happened that day still this funny feeling of almost a 'be aware' feeling, slowly got stronger what made me, strangely enough, look frequently, and only, in the direction of my sons bed room which is across a small hallway at the front door.
Several weeks ago the light bulb of the ceiling lamp burned out. I yet have not seen the spirit to climb up to a ladder and put in a new light bulb and so, there is no light in this, now creepy looking, little hall way. Only the light from the lamp on my desk was making the closet and my son's white painted bed room door visible but in a dimmed manner.
Due this nagging feeling I got a little bit restless and so, while Ghost Adventures was still playing in the background, I started to surf the internet. After proximus 30 minutes I came across the website of Dr. D. Radin who is doing interesting research of how e.g. PSI works and what these talents can tell us about the nature of reality. Via the form on his website people have the opportunity to ask him questions and so, I did. Surprisingly Dr. Radin emailed me back within 20 minutes with an answer to my question. Our email traffic kept going for about one and a half hour and I forgot all about the strange feeling I had. But it was far from being over…the, to the naked eye, invisible realms still had a few things in mind for me.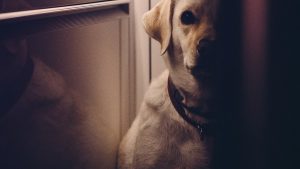 I had not noticed it but while I was in conversation with Dr. Radin my two dogs had lain down in this small hallway. I should at this point mention that this hallway contains a total of five doors and two small built-in rooms…one for the washing machine and one for the toilet. Their K9 bodies and heads flat against the ground, their eyes wide open and staring at me as if they where waiting for the moment to jump up and bark any intruder out the house. It give me a charged shill to see them laying in the dark and being such an alert state. I wonder if me getting charged that way has caused it to manifest itself this strong shortly after. However, hoping that my dogs would warn me for any unseen danger approaching, I clicked on a new You Tube episode from Ghost Adventures… I was ready again to absorb their creepy experiences while eating my popcorn. But it was not the investigation Zak and his team where conducting that was going to make me jump out of my chair.
It was about 00:10 as I felt a dens energy field building up in this small hallway. Right in that moment one of my dogs, the female, stood up and lay down on the sofa in the living room staring in the direction of the hallway. My other dog, which is a strong 45 kilo male, did not move and kept staring at me. I took a quick look at my female dog; she was okay but was licking my hand intensively. I gave her a pat on her head and walked over to my dog that was still lying in the hall. The air did felt dens and slightly electric but I thought that I was feeling my dogs' alertness and did not thought of this being something or…someone else.
With the comforting knowledge of my dogs being alright, I sat back in my chair and rewind the still running Ghost Adventures episode. 00:15, I heard my dog in the hallway making a soft sighing sound and instinctively I turned my vision to my right into the direction of where my dog was. It took me a couple of seconds to realize that I could not see my son's bedroom door anymore. Something was blocking the view. I took a second look and saw that the toilet door was wide open! This door has being closed all the evening. Now the creepy part was, I have not heard any sound that could have indicated that a door was being opened and still…this toilet door stood wide open! Why only this door when there are four more? Well, to that question I gained a surprising answer some 45 minutes later.
With astonishment I was gazing at this wide open door, "WHAT?!…HOW?…WHY?"
I walked into the small dim hallway, closed the toilet door and felt the hairs on my arms standing straight up…my whole body started to get highly charged and felt extremely heavy, as if I was pulled to the ground by an enormous strong magnetic force. As I walked out of the hallway with the intention of calling my husband and report the event happening in that moment, I felt an energy field building up its strength and growing rapidly in size. It gave me the chills for sure! I called my dog with me, picked up the phone and dialed the mobile number of my husband. When he picked up his only words where, "I will call you back…we are standing with a patient who is dead!" Then he disconnected the phone connection.
Meanwhile this energy field was growing in strength. It felt as a charged blob not knowing where it was or what happened to him. I say 'him' because I could read this energy as a male person. Then the phone rang, it was my husband. Logically he wanted to explain what he witnessed right away but before he could describe what he has seen I had to interrupt him because I wanted to know if what he had just experienced had a direct connection with what had happened in my home. So, I described the person who was standing in this charged blob of energy which was now slowly fading away…becoming less charged.
"A man slightly bigger than the average length…Caucasian… dark blond hair…cardiac arrest" A couple of second of silence on the other side of the phone connection and then my husband said, "Um…100% correct!"
"Well, he is here but is slowly fading. This man was ripped out of life in an instant and now he does not understand where he is and what he has become."
Over the phone my husband explained that this man had a cardiac arrest while, together with his wife, cycling home from a party they just where. His wife was in the front and heard a strange noise behind her. As she looked behind her she saw her husband lying against one of the trees of the forest they where cycling through. While she was calling for medical help, he was in the process of crossing over….standing before the gates of the hereafter and stepping into an infinite realm.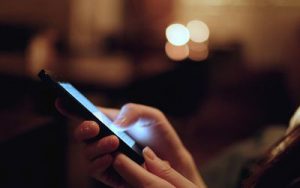 At one point my husband told me, we where still talking on the phone, that due this cardiac arrest the man had wet himself. And when I heard his words crawling through the telephone receiver, I suddenly understood why the toilet door stood wide open instead of one of the other doors in the hallway. This man made himself known by acting out on the last thing his brain had recorded, him wetting himself and not being able to do something about it.
Looking back on this remarkable event, one can think that a poltergeist was starting to be active. But instead of having a malicious spirit in the house, it turns out to be someone who was lost for a moment due the fact he was unaware of already being in the process of crossing over. This man just needed some time to understand what had happened and adjust to his new form of existence.
Two days later…my husband and I where sitting in the living room, drinking a cup of coffee while watching a movie on Netflix. Without any announcement in sound or charged fields, a small decorative tomahawk axe, that is hanging on bedroom closet, jumped off its hook and hit the wooden floor of the bedroom with a loud bang. As I quickly turned to where this loud sound was coming from, I could just see how the two decorative knives, hanging next to the tomahawk ax, moved in an unnatural way.
If this event is directly connected to the man who died from a cardiac arrest or someone else is making itself known I do not know. But that curious events do take place in my house, that is for sure!
[Top]